(S05E05) Previous Episode
Facial Recognition
Aired On 2018-04-22
Overshadowed by Jared in an on-camera interview, Richard's confidence wavers further when Laurie and Monica force him to work with Eklow, a new artificial-intelligence company. Gilfoyle worries about the prospect of introducing AI into Pied Piper. Dinesh makes Jared self-conscious ahead of a second interview. Gavin questions his future beyond Hooli.
Next Episode (S05E06)
Artificial Emotional Intelligence
Airs On 2018-04-29
Richard decides to help when Laurie gets in a jam, but his lack of emotional discipline threatens to backfire on Pied Piper. Gavin tries to make a deal with a stubborn partner while abroad. Dinesh relishes a rare win. Jared bonds with a surprising figure.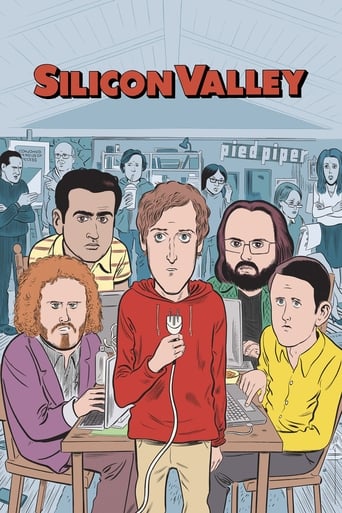 In the high-tech gold rush of modern Silicon Valley, the people most qualified to succeed are the least capable of handling success. Partially inspired by Mike Judge's own experiences as a Silicon Valley engineer in the late '80s, Silicon Valley is an American sitcom that centers around six programmers who are living together and trying to make it big in the Silicon Valley.
Writing:
Mike Judge
Alec Berg
John Altschuler
Stars: